1910 Hall of Fame Ballot
Ten players will be making their debut on the Hall of Fame ballot. This year I'll try and say something about each player that can't be found on the actual ballot, and try and mix things up a little bit.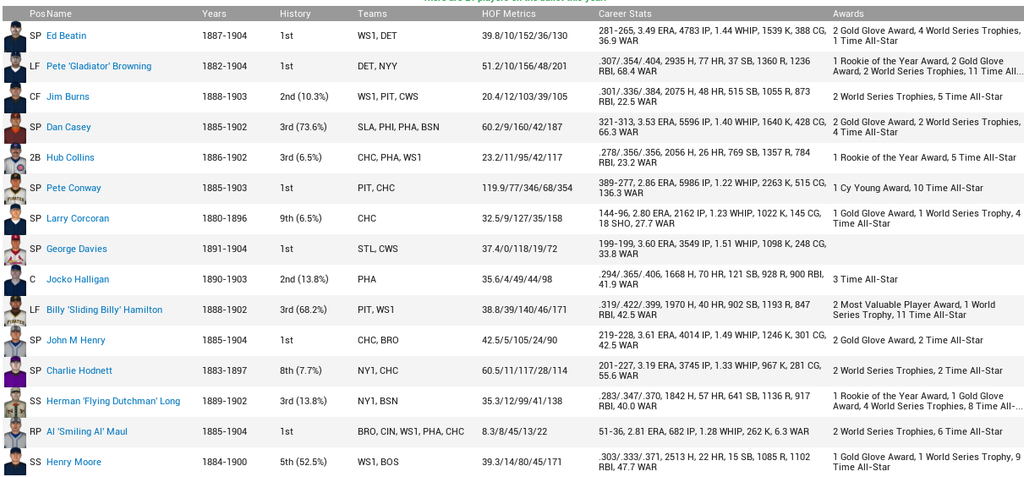 Starting pitcher Ed Beatin was a member of the Washington Senators along with two members of last year's Hall of Fame Class, Tom Daly and Charlie Ferguson. Beatin went 281-265 during his career with a 3.49 ERA. Despite coming so close to 300 career wins all five of Beatin's metrics are below the average of current Hall of Famers.
Left fielder Pete Browning hit .307 for his career with 2935 hits, 77 home runs, 1236 RBI, and 1360 runs scored. An 11 time All-Star, Browning had a career WAR of 68.4, which is tenth all-time among batters. Only two players with a higher WAR have been eligible for the Hall of Fame (Roger Connor and Dan Brouthers) and both were elected to the Hall of Fame.
With 389 career wins Pete Conway is a surprising 11th on the career wins list. Four players above him have been elected to the Hall of Fame, two are still active, and four have not yet been eligible, although we'll see one a little bit later on this year's ballot. Conway won a Pitcher of the Year Award in 1889 when he went 37-12 with a 2.35 ERA. Conway finished second in both 1890 (36-13, 2.07) and 1891 (31-19, 2.20).
While George Davies finished with a 199-199 record during his career he never had a season where he had the same amount of wins and losses.
John Henry will be appearing on the ballot for the first time with a career record of 219-228 with a 3.61 ERA. Henry's best season came with Brooklyn in 1892 when he was 29-21 with a 2.11 ERA.
Reliever Al Maul had double digit saves in back to back years in 1886 (11) and 1887 (10).
Shortstop Frank Shugart had a 33 game hitting streak in 1893.
Parke Swartzel spent his entire career with the Chicago Cubs and won more than 20 games once during his career in 1896 (22).
456 game winner Peek-a Boo Veach is currently fourth on the All-time career wins list and won 20 or more games in a season 14 times in his career. Despite losing 366 games during his career Veach should be a first ballot Hall of Famer, being four of five average metrics.
'Vinegar Tom' Vickery finished second in Pitcher of the Year voting in 1902, when he went 26-8 with a 2.28 ERA as a 35 year old.