1901 Hall of Fame Results
The results of the 1901 Hall of Fame voting have been released, and two players gained entry into the Hall of Fame.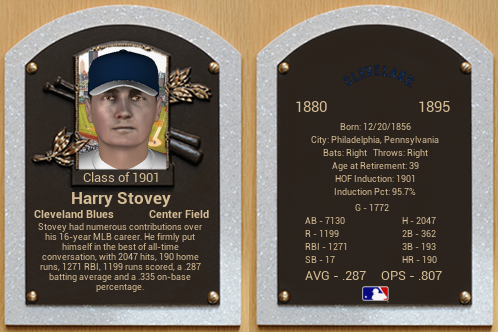 CF Harry Stovey led all players with 95.7% of the vote to become the first member of the 1901 Hall of Fame class. Stovey was a career .287 hitter, winning the MVP Awards in 1887. Stovey added six Gold Gloves and six Silver Slugger Awards while going to 13 All-Star Games.
SP Daisy Davis appeared on 92.2% of the ballots to become the second player elected to the Hall of Fame this year. Davis went 271-227 during his career with a 2.82 ERA. In 4344 innings Davis struck out 2080 batters, winning a Pitcher of the Year Award in 1885 and going to 6 All-Star Games.
RF Bill Boyd (51.2) and SP Lon Knight (48.8), both in their fifth year, finished in third and fourth place respectively. Four players were dropped from the ballot, C Emil Gross, 2B Fred Dunlap, SP Bill Sweeney, and RP Laurie Reis.
1901 Hall of Fame Voting Results:
CF Harry Stovey 95.7 (1st year) Inducted HOF
SP Daisy Davis 92.2 (1st year) Inducted HOF
RF Bill Boyd 51.2 (5th year)
SP Lon Knight 48.8 (5th year)
3B Ned Williamson 23.8 (3rd year)
SP George Bradley 12.1 (8th year)
SP Bobby M Mitchell 11.7 (6th year)
C Emil Gross 4.3 (2nd year) Dropped
2B Fred Dunlap 3.9 (3rd year) Dropped
SP Bill J Sweeney 2.5 (1st year) Dropped
RP Laurie Reis 0.4 (1st year) Dropped