We will be using the default database the idea that I seen by Wynne from Youtube about only buying Regens aka Youth Intake so that is all I will be using for signing players in this game. I want to become the first Canadian to make his name known in the England league in FM15 save.
Just a bit of history of myself
Growing up in Hamilton, Ontario Canada I was a huge hockey fan and after completing the SWMM scouting and GM course I knew what it would take to run a successful franchise. However there was no shot in becoming a team manager in hockey unless you had your foot in the door or basically knew someone. Like the saying goes it's not what you know it's who you know. So I decided to take my management skills and apply them to a soccer team. So here I am sitting in my Hamilton apartment as i just finished my smww hockey gm and scouting course I have decided to give up my hockey dream and begin my soccer manager team. After a poor past couple of seasons it was known in the media that the Guiseley FC has recently fired their Manager and has begun their search for their new manager in hopes to change the franchise around and build their club. As I look at the possible ideas to help change the club I would decide to fax my resume to the ownership of Guiseley FC and after a few interviews as a canadate for the manager position I got a few phone calls later to find out that out of all of the managers that they interviewed i was the best one for the job so now I have been named as the new Guiseley FC Team Manager.
As far as nations database goes I have selected the following countries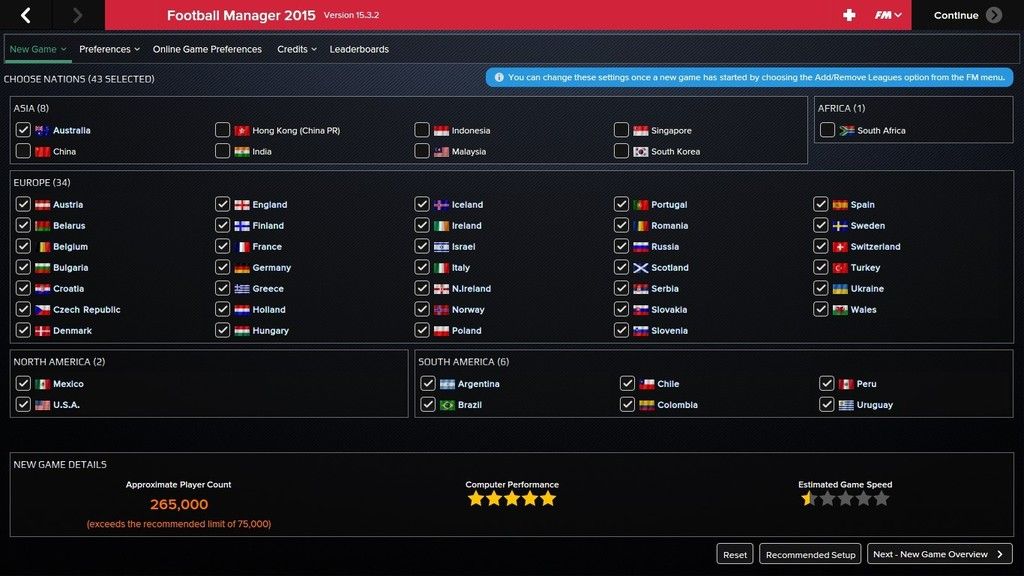 We will be using England's start date to begin our save
I have also decided to go with Canada as my 1st nationality as that was where i was born and Dutch as my second nationality as I have Dutch and Italy as my other nationalites.
I have decided to go in the middle at the Managerial style (National B License and Sunder League Footballer both based on Guiseley bages)
Club info:
July 8th
My contract is a 1 yr deal until June 2015 worth 700 p/w
We were give a wage budget of $7k per week and $0 transfer budget
We have one loaned player which is Shane Killock who is on loan with us until May 2nd 2015
We also have an injury in our club:
D – Ryan Toulson (damaged cruciate) – out 4 weeks to 2 months
I have approached the board about increasing the junior coaching budget as we are building our clubs within our youth intake and regions once we get higher up in the league.
After looking through all of the staff I have decided to fire the following members:
U18 Manager: Dave Currie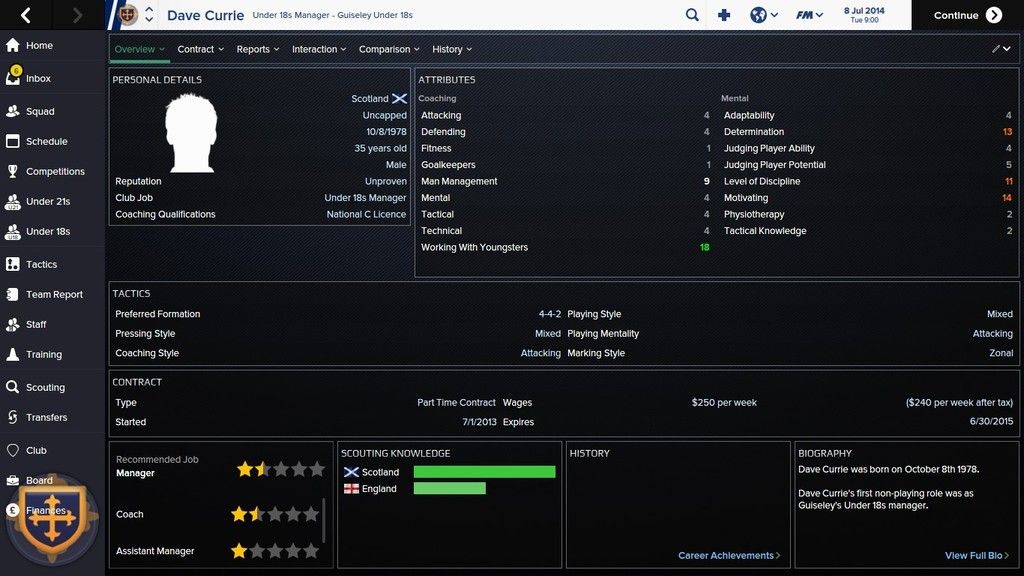 Head of Youth: Callum Pugh
Physio: Martin Stringfellow
Chief Scout: Graham Angus
Assistant Manager – Danny Boshell (We have decided to fire him because with him being player/manager we hired a better manager and he couldn't take just a player position so we decided to let him go)
Assistant Manager side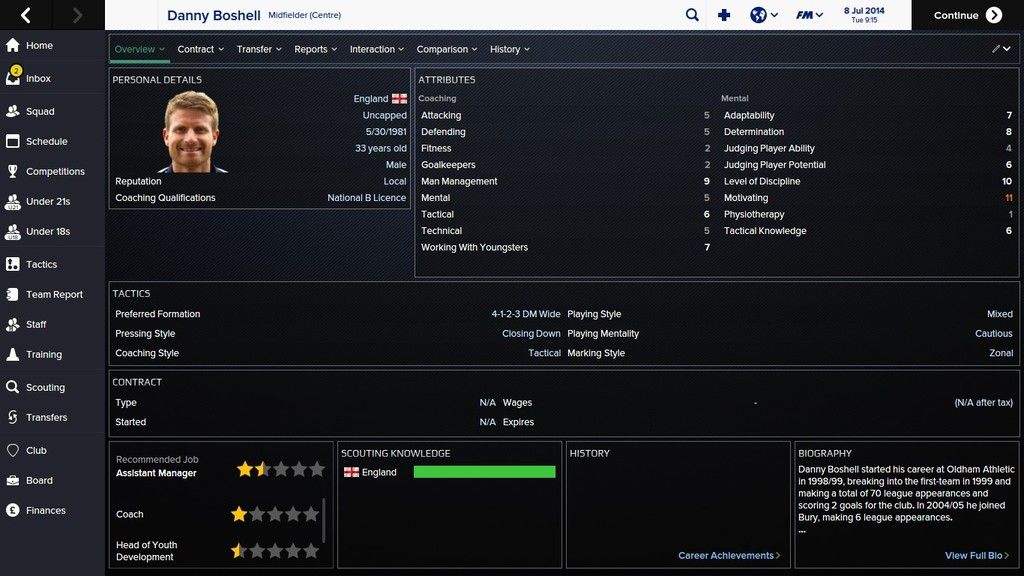 Player Side:
Later on in the day we have signed Mick Gooding as our new assistant Manager. He previously served as a coach and he is scheduled to make 625 per week until June 30th 2015
July 9th
We have hired 65 yr old goaltending coach Joe Corrigan for a 300 per week until June 2015.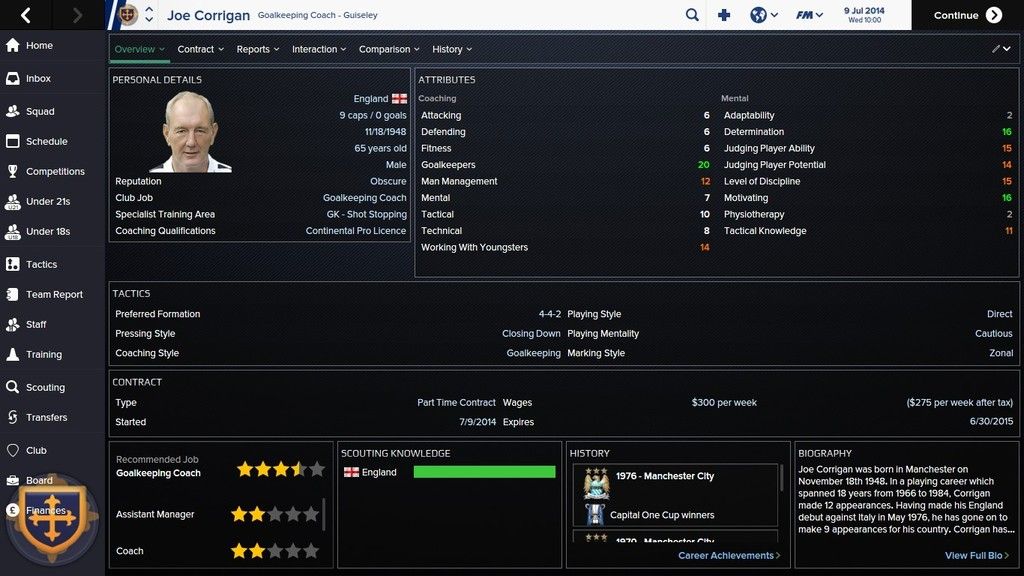 We have signed 62 yr old England scout George Rooney to a non contract as our Chief Scout
We have hired 43 yr old England Physio Marty Royal to a non contract as our club Physio.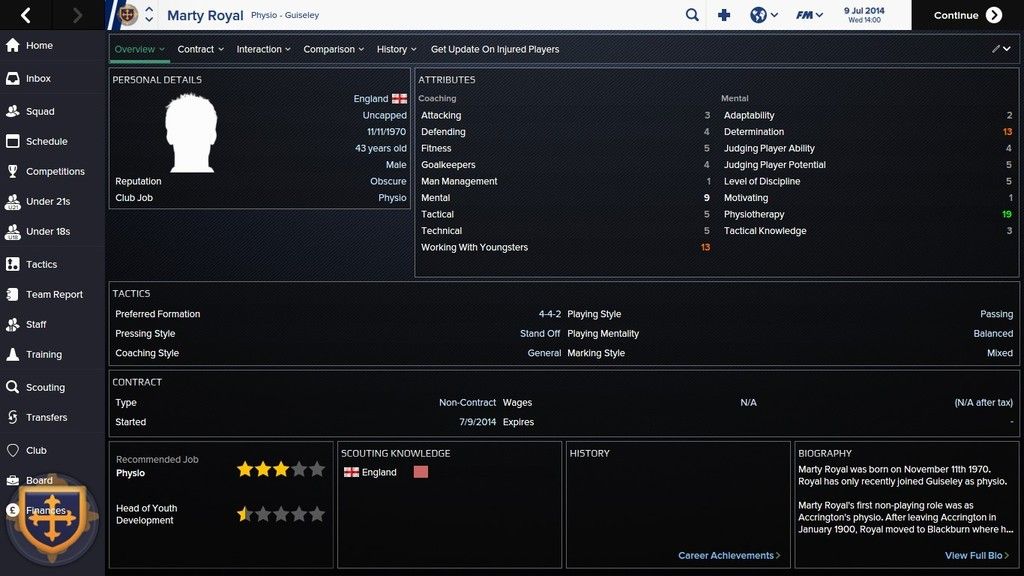 We have signed John Milton who is a 57 yr old scout from England to a non contract to join our scouting staff
July 11th
We have hired 31 yr old England coach Steven Hulme as our U18 Assistant Manager for 300 per week until June 30th 2015
We have hired 36 yr old coach Jon Beswetherick as our U18 Manager for 300 per week until June 30th 2015
We have scheduled 9 pre-season friendly games only because we have 2 tactics we want to try out with our club and during the pre-season friendly schedule each tactic , so each tactic will get 4-5 friendly games to see how well our club reacts to them or as some would say a week.
The pre-season schedule so far for the 3 clubs (Main/U21/U18):
Main:
July 12th vs. Bradford
July 16th vs. Queen of Sth
July 19th vs. Leeds
July 22nd vs. FC United
July 24th vs. Atherton LR
July 26 @ Brigg
July 30th vs. Bamer Bridge
August 2nd vs. Rochdale Town
August 5th vs. Dinnington
U21 (Parent clubs league in brackets):
July 13th vs. Walsall U21
July 24th @ Chester U21
July 31st West Ham U21
August 3rd @ AFC Fylde U21
U18:
July 25th vs. Port Vale U18
July 29th vs. Wolves U18
July 13th
Our main squad has a friendly today against Bradford from League 1, our squad lost 3-1, Gavin Rothery scored the lone goal.
July 14th
Our U21 squad has a friendly against Walsall U21, the game finished in a 1-1 draw, Luke Porritt scored the lone goal.
Callum Pilkington left the game with an injury and will be out of action for 2-3 weeks with a Thigh strain
July 15th
We have hired a Head of Youth Development coach by the name of Kevin Grogan who is from Republic of Ireland who is scheduled to make 150 per week until June 30th 2015.
July 16th
Our main squad has a friendly game at home against Queen of Sth. Our main squad won by a score of 2-0, Andy Holdsworth and Alex Johnson scored the goals.
So we will only be able to sign youth intake players and get players on loan from our parent club Leeds or any parent clubs we have in the future is the only rule I will have for bringing in players.
July 19th
We have a friendly game against our parent club in Leeds. Our main squad lost by a score of 2-0
Jack Stockdill who is a 18 yr old midfielder left the game with a Thigh Strain and will be out 2 to 3 weeks
July 22nd
Injury Update:
M – Jack Stockdill (thigh strain) 12 days to 2 weeks
D – Ryan Toulson (damaged cruciate ligaments) out 3 to 6 weeks
Our main squad is at home as we take on FC United. Our main squad drew a 3-3 tie with FC United, Luke Porritt, Oli Johnson and Gavin Rothery scored the goals.
July 23rd
We have brought in Dan Atkinson on loan from leeds who is a 18 yr old goalkeeper.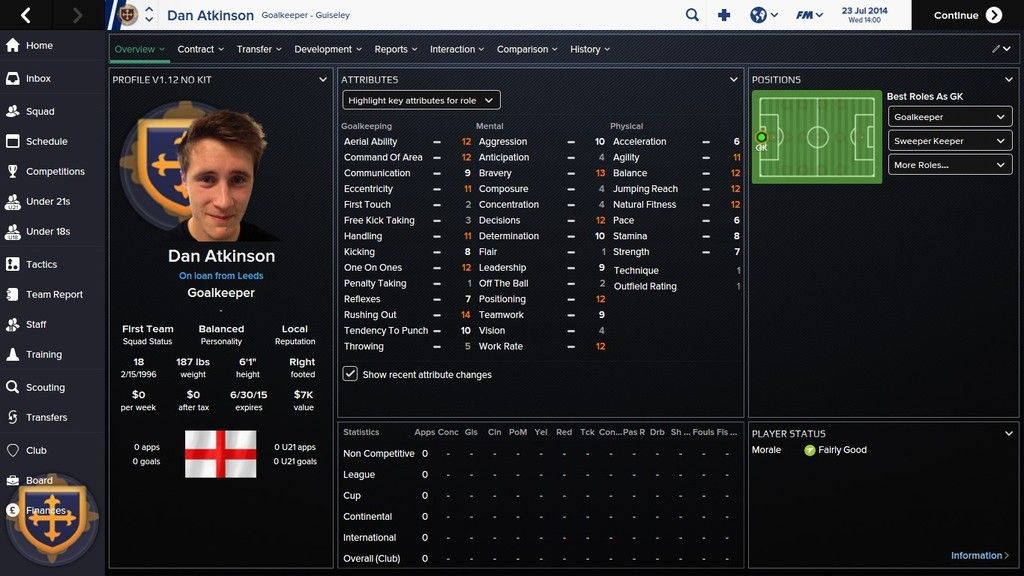 July 24th
Our U21 has a friendly against Chester U21, Our main squad has a friendly against Atherton.
Our main squad won by a score of 1-0, Wayne Brooksby scored the lone goal, our U21 squad won by a score of 2-0, Ben Walker scored one goal and an unknown Russell Sutheran scored the other goal.
July 25th
Our U18 has a friendly game against Port Vale U18, our U18 lost by a score of 1-0.
Barrow has been made the favourite 8-1 to gain promotion from the VCN this season. The rest of the main contenders are priced at:
33-1 Oxford City, 33-1 Harrogate, 40-1 Tamworth, 40-1 Guiseley, 40-1 Hyde
Having priced your team at 40-1, the bookmakers obviously believe that you are one of a number of teams in with a serious chance of promotion. They feel that as long as you perform to your capabilities there is no reason why you shouldn't be in a promotion spot come the end of the season.
July 26th
Our main squad has a friendly against Brigg, we drew a 1-1 draw against Brigg. Alex Johnson scored the lone goal and Gavin Rothery missed the penalty shot.
Oli Johnson left the game with a injury that will keep him out for 3 months with a torn hamstring.
Ryan Toulson has returned to light training as he is expected to be back in full team training in 4 weeks
July 28th
Today was the draw for the U18 cup, our U18 squad has drawn Hednesford U18 in the 1st round of the U18 Cup.
July 29th
Our U18 has their last friendly game before their regular season begins as they play Wolves U18. Our U18 squad lost by a score of 2-1, Arran Lyon an unknown scored the lone goal.
Jake Lawlor was injured during first team training and will be out 5 to 7 weeks with a sprained ankle.
July 30th
Our U18 squad has scheduled two more friendly games on August 7th against Norwich U18 at home and against Crewe U18 before they open the regular season on the 16th of August against Lowestoft.
Our main squad has a friendly against Bamber Bridge on our home pitch. Our main squad won by a score of 2-1, Gavin Rothery and Adam Boyes scored the goals.
We lost another two players in Wayne Brooksby for 3 weeks to a Groin strain and Gavin Rothery for 3 weeks with a twisted knee that brings a total of 5 injuries on our main squad and our season hasn't even started yet
July 31st
Our U21 squad has a friendly game against West Ham U21, our U21 squad lost by a score of 2-0