Year 1: Mojave Series, Game Six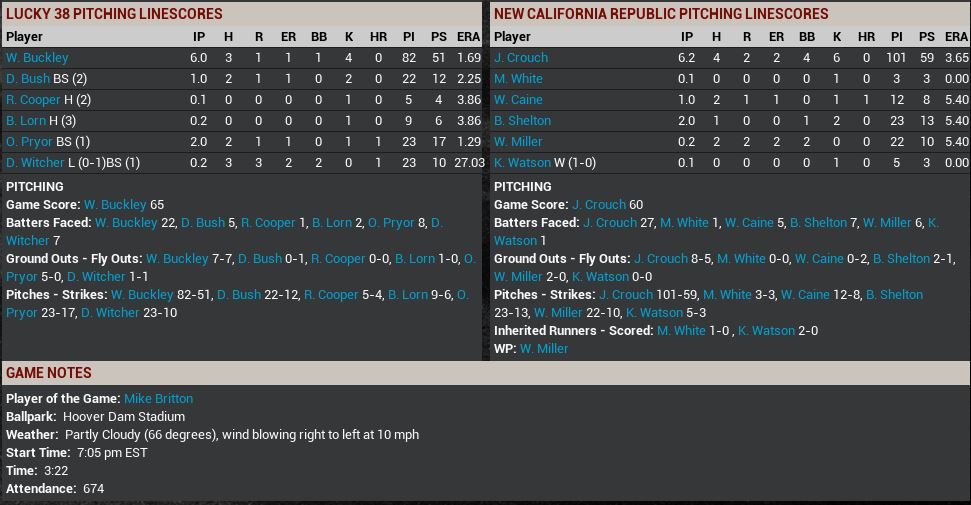 Thrilling 11th Inning Ties Series 3-3
For the first Mojave Series, this has been a "classic."
Tied 3-3 heading into the 11th inning, Lucky 38 scored two runs in the top of the inning. However, the New California Republic had the answer, with Rich Hall hitting a two-RBI walkoff single to keep the Bears alive.
The NCR had to come back two times in the game to prevent Lucky 38 from taking the series. That's where game MVP Mike Britton came into play. Trailing 3-2 in the bottom of the ninth, Britton hit a tying home run off Otis Pryor. But Britton was not done. He also hit a one-out solo home run in the 11th, leading the surge in the exciting come-from-behind victory.
The rest of the 11th inning was a battle of survival for the Bears. Following Britton's homer, Emilio Rodriguez walked. With two outs, Stanford Gillespie singled and both runners advanced when Mike Duncan could not field the ball cleanly. Gerardo Makejoo then walked to load the bases before Hall's game-winning hit.
The NCR was down because of allowing two runs in the top of the inning. Dennis Shaft singled to lead off the inning. After a sacrifice bunt to move Shaft to second, Perry Ferguson was intentionally walked. Vicente Palacios followed with an RBI double to give Lucky 38 a 4-3 lead. With two outs, NCR pitcher William Miller threw a wild pitch, allowing Ferguson to score.
Neither team could pull away in the game. The NCR took an early lead when Emilio Rodriguez tripled to lead off the second inning, followed by an RBI single by Gillespie.
Lucky 38 finally scored in the fifth inning. With two on and two outs, Duncan hit a two-RBI double for a 2-1 lead.
The Bears were able to answer in the bottom of the seventh to tie the game. Jeremy Watson hit a one-out double, followed by an RBI single by Gillespie.
In the eighth inning, Lucky 38 took the lead again on a solo home run by cleanup hitter John McDowell.
Ken Watson, who pitched just 1/3 of an inning, was credited with the win for the NCR. Jim Crouch was the starting pitcher for the Bears, giving up two runs on four hits with six strikeouts and four walks in 6 2/3 innings.
Wilfred Buckley was the starter for Lucky 38 in a short outing. He gave up one earned run on three hits with four strikeouts and a walk in six innings. Dave Witcher was the losing pitcher, three runs, two earned, on three hits with two walks in just 2/3 innings pitched.
With the series tied at 3-3, the teams play the final game seven tomorrow. The winner will forever be remembered in the Mojave as champions. The loser will probably drink themselves into a coma.